Workshops
Choose from our Courses and Online Programs
PEOPLE TOOK LAMA FERA HEALING
PEOPLE LEARNT LAMA FERA HEALING
Highlights and Achievements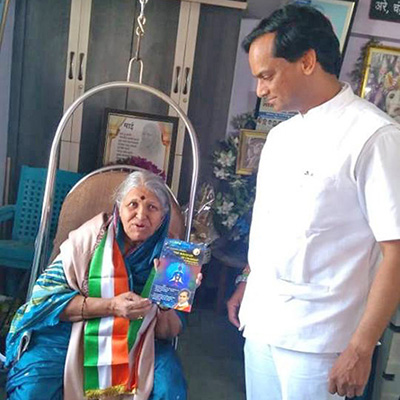 Book Inauguration by Sindhutai Sapkal
Testimonials
What Are our Clients Saying About Us
Asmita Waghmare, Pune
Good morning Sir and all friends. I have completed one month with Lama fera family. I am happy to share that on today's day I have received attunement and Lama master training from Sir and Revati ma'am. At the end of workshop sir has given me the target of losing 5 kg in a month considering my over weight at that point of time and today I am glad to share that almost 5.5 kg weight loss I have achieved in 1 month with naturopathy diet and by following the golden rules provided by Sir. Initially I was 73.8 kg when I checked my weight on 9th of march and now (08/04/23) I am 68.8 kg. Also there was lot of under eye darkness was there, just because of following the given instructions I could see remarkable difference in lightning of dark circles too, my skin became healthy, healed and glowing. All this was possible only because of the focus which made me to strive to achieve my goal given by Sir. Strong determination towards the goal is very essential this is was what I have learnt from Sir🙏 My whole hearted credit goes to sir for making me capable. I have no words to elaborate the level of my happiness since I could see remarkable difference and achievements in small span of time in my professional as well personal life. From bottom of my heart I thank you Sir🙏for showing and shaping my path. I also thank to Revati ma'am for her support🙏 . I thank to my family all friends. Thank you My Lord Buddha, My divine for blessings me with lot of happiness, good health and wellness.


Harish Sharma, Mumbai
GM Everyone!!
I want to share small breakthroughs i am witnessing in my day to day life.

Since 1st March, i have been diligently doing the following:
1. Manifestation (after waking up and before sleeping).
2. Gratitude every morning.
3. Good morning messages to 5 new people every day.
4. Forgiving others (who i feel have wronged me in the past) and praying for their growth and peace.

Last one week - eating cooked food once a day, alongwith naturopathy diet.
I am glad to share with everyone that I am experiencing high energy throughout the day, energy after coming from work is also very high and i spend evening 30-60 minutes with my 2 high energy kids from 8-9 pm, there is a glow in my face every day, I feel very confident in dealing with professional life, personal life and all my past failure issues.
All this is possible only because of healing, blessings, guidance of Sir.
Each one of you have played a very important role for me as reading all your commitments, sharing of your successes and challenges is very motivating and very inspiring.
Thank you God, Thank you Sir, Thank you all wonderful people.


Contact
Our Address
Lama Fera Monastery, Plot no 19, Lane 2, Vasant Park,
Near DPS School, Mohammadwadi, Pune - 60
Email Us
smshukla@lamafera.com
Call Us
8484023530 / 9822536773
Sign Up for Free Introductory Talk of Our Courses